Startups
Glovo And Its Value Proposition With Oscar Pierre, CEO
Glovo is, without a doubt, a startup that has achieved great impact, not only in the delivery sector but at a company and business level. CEO and co-founder Oscar Pierre visits the Itnig podcast to share the story and evolution of the company.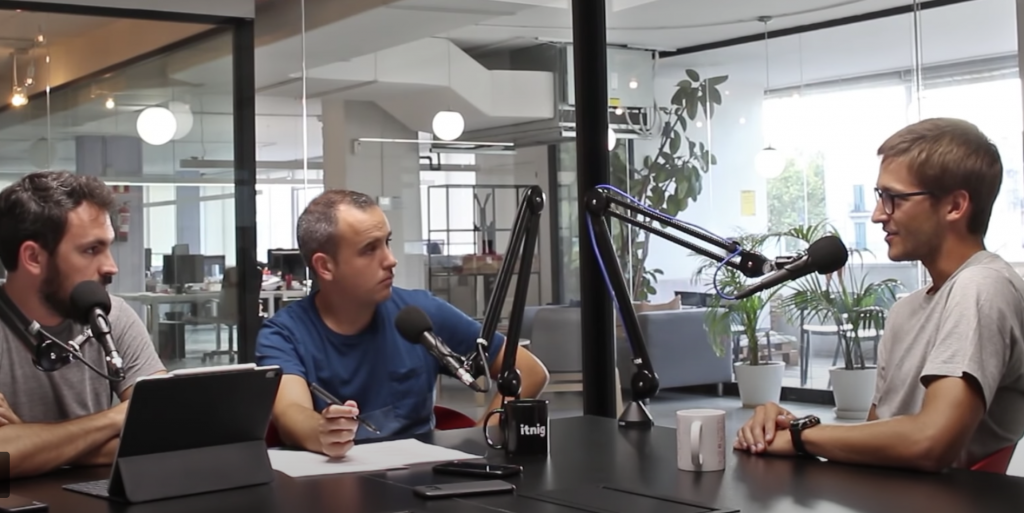 The unicorn, with HQ in Barcelona, operates in more than 20 countries, has recruited more than 1,500 employees, and millions of users around the world.
What is Glovo? How was it born?
Glovo is a project born in 2015 in Barcelona with the goal of having the greatest impact in cities. And it started as a fairly simple app that only told the user "Ask for what you want, and we will bring it to you" and, little by little, we've developed other features.
Now, when you open the app, apart from this magic button of «order what you want» we have a marketplace of any store or restaurant in the city with its online store, its products, its prices, which we deliver very quickly in 30, 45 minutes. Now, the company is in 22 countries, it has a fairly focused expansion in uncompetitive countries.
Had this "Ask for what you want" feature been done before?
Yes, but not to scale. We had seen some projects in the US, even some projects in Spain, but they hadn't gone much further than being a Facebook page or a phone or WhatsApp number. And in fact, a long time ago in Barcelona, ​​there was a phone number that you could call and it would bring you anything. Having someone who can serve you and solve errands is not a new service. The thing is, it couldn't be done to scale and not everyone could afford it.
The functionality of being able to pay/buy at the restaurant or store gave us an almost magical advantage from day 1 because in all these services selection is key. Having the best brands in your city, the selection is key to attract and retain users. And, inadvertently, we had made a product that gave us infinite selection. Any product that was affordable and wearable in a box, you could order through Glovo.
What would you say is the key to Glovo's value proposition?
The reality is that the first product we launched "ask what you want" did not work. We were testing it for six months and it worked much more for the press than for users. It was one of the moments that we almost died when we saw that the growth charts were very bad. This was at six months of age.
We came to two conclusions. One was that the service was expensive. We were charging about 5 euros per order, which, for everyday things, is reserved for a very high class niche. The second is that freedom can be overwhelming. It is as if now you go down to the street and they tell you "ask what you want", it's weird, right?
So we realized that if we wanted it to be a growth app, it had to be cheaper and we had to show content when the user entered, we had to set up a marketplace. For that, we had to sell collaboration agreements with suppliers, stores, restaurants, about 10 options per category.
And that's when we started to see traction and especially in food, where the competition was. Just-Eat was already having some impact and Deliveroo was new. That's when we started learning about food delivery. The first phase was the value proposition for the user.
Beyond cooking, what should the restaurant focus on? And this is where I return to the topic of selection because what phase two does is unlock for the user a selection that Just-Eat or similar have never been able to unlock. And here are included very large brands such as McDonald's, brands that have not wanted to have their own delivery fleet because it is complicated, or more premium restaurants that do not consider having delivery.
Deliveroo and Ubereats were very recent, they were still starting. Our big competitor to disrupt was JustEat, which already had some penetration and we realized very quickly that we had a value proposition that could compete very well against them. Not only with our payment gateway and our shipping platform, but with the infinite selection for the user. The user entered and, for the first time, they could order McDonald's or the premium sushi from Barcelona.
Did you have to make agreements with all the restaurants?
That's when we start to play. We even started creating fake stores without their permission, or by sending an email saying that they had been selected as one of the best restaurants and we had made a store in the app. 9 out of 10 answered "OK".
In fact, there was a time when we were using logos that were not the originals, they were similar, when you saw it you knew it was MacDonald's. Those were some hacks that we did, even if the user didn't realize it. This was a very strong competitive advantage. And we began to grow.
The key was to have so much supply versus the competition that had to reach agreements with each restaurant. We could work with restaurants that did not have delivery.
From a margin point of view, it is a disaster, the investment is very aggressive to capture market share. That's why we have these fake stores or these fake agreements within Glovo as "fake partners". And each country has its percentage of "fakes". They themselves realize that we bring them clients, in the end, we create the agreement, because we put pressure on the market. Now, for example, in Spain the percentage of fake partners is below 1%.
Now the big focus is on the Groceries market. We are doing a double strategy. One is vertical, we already have our own warehouses within the city in urban areas. They are small stores that we call Super Glovo. And, in parallel, we also have agreements with large retailers, such as Carrefour. We think a lot about the user. And, as a user, when you enter the supermarket category, we believe that the best experience is to offer you a Super Glovo as a convenience store, but you also have Carrefour, which is bigger and is a brand that you trust. This is a strategy to expand the user base so that everyone benefits.
Why is Glovo better than Amazon in this part of the market?
I believe that the minds of users classify brands by use cases or areas of use. And I think our area of use is very marked. In addition, people open Glovo when they need something delivered quickly in 30 minutes, especially an errand or a delivery or food delivery. Errands are the second category, just like supermarkets. I believe that with focus and creating a product that is the best in what you do, there are many success stories.
How did you design an information system that can include any type of product in the world?
Being very honest, I have always left the technical part to the team that we've built. The complexity of Glovo is that there are many categories with many products. In addition, we have to adapt it to different countries, as different as Egypt, Kazakhstan, or Peru. And when you think of cities and how the cities of each of these countries work, the complexity is brutal.
What's more difficult to attract: businesses, riders, or customers?
The three of us look at them as if they were users, with their satisfaction or retention metrics. We separate them in your CAC. I believe that the most important part of our business is selection. If you have the best team in town and a team that is competitive, that goes beyond your competitors. You have a powerful asset to win. It's about quality over quantity, best brands, and exclusivity.
The most difficult thing is to capture the best businesses. The long tail not so much. In fact, we have already launched an automatic onboarding. There are many restaurants that are starting to sell on Glovo for self-service.
The way to reach riders is quite organic. But the first day, when we open in a city, job portals are used again or through ads.
And when it comes to attracting customers, we are especially good at doing offline and TV campaigns. Obviously also online. But I think we are especially good at nailing the message, making a media plan. We see our competitors who do not know how to do TV, who do the mega campaign and then don't impact anyone again. We started offline to create a brand. And little by little we are increasing the percentage of online. In a country like Spain, I think it is already at 70, 60% online. As you increase your media pressure and build your brand, your online CACs go down.
It depends on the competition. In LATAM, we have a competitor called Rappi, the most aggressive competitor we have ever had. It is an aggressive market, and investors say so. There are few industries that at the level of penetration and opportunity will grow so much. And we know that there is no room for many.
What else has been the key to what Glovo has done well that others have not done?
A couple of things come to mind. I think one is that my way of recruiting was quite natural. I started when I was 22 years old, so I think something I did well from day 1 is to be very honest that I didn't know anything and had to put together a team of very good people, much better than me. And I think I recruited good people and let them operate freely.
We really believe that it is an adventure in our life and we always look upside. Any decision we make, even if it has certain risks, we do it. Glovo has been on the verge of dying three times and has been part of the game.
The pitch was always very difficult for investors and we have raised rounds by grouping several small investors and mounting rounds as we could. We have never had what they call "anchor investors" that put 100 million and you know they can put you another 100 million. We have never had this and we did it in a very transparent way with the team we had, the difficulties of raising capital. We have created a very efficient and very P & L-oriented culture.
That is why we do more with less, although Rappi has raised 700 million or Deliveroo more than 1000, we are very competitive. It is a market that investors already know will be huge, that it will grow a lot. So, whether you like it or not, you have to stay very competitive in fundraising and also in budget. Luckily now we are in a phase that they already listen to us and any VC or fund in the world receives us.
Raising money with so many people takes a lot of work. On the other hand, it has a certain advantage, which is that it allows you to maintain control because you are the point of union between all these people. This is good and allows everything to be quite democratic. But the investors have control of the company if we put them together. We have a board of directors where they are founders. The risk of having a large investor who has 30 percent who will always have secondary interests, this does not happen in Glovo. The largest partner in Glovo has 13%.
The topic of riders appears a lot in the press. What is the conflict? What is your vision in this regard?
What we are trying to do is offering work that is flexible, with zero entry barriers where it obviously pays well. We try to pay 30 percent above the minimum wage. And where the person has neither bosses, nor orders, and really has freedom on their mobile to generate new income. And we have seen that it is a solution for many people, especially for certain groups. We don't intend to create anyone's life's work, but we do know it is a solution for many people.
In the end, it is not a topic that we are making up. Platforms that offer flexible work is something global and that is exploding all over the world and that, above all, in large cities, many people are looking for flexible jobs of this type. The first thing we try to explain to the government is that this is not a Glovo issue, it is global and many countries are beginning to react.
What we want is for there to be a regulatory framework where we can invest more in these people, in guarantees, in benefits, in insurance. Because there is no legal contract that can allow that type of work. Right now there is a wall between what is a freelance and a work job. We would love to offer training, the same private insurance that the platform offers in the event of an accident, which covers much more than any courier or the same employee in a Spanish company.
What we ask is that there is a regulatory framework that is a little more flexible and that it adapts to these platforms. Spain is the country where we believe we have the greatest economic impact, but one of the only countries where all cases are being prosecuted, instead of having a dialogue. And also because of the whole political situation, which is that it is not easy in Spain and it is not very stable.
We are very limited in what we can offer riders. We would like a more flexible contract from us, we can invest more and more profits, more secure. Even those people who work longer hours. Some people work five hours a week or people who work 60.
What prevents you from hiring riders for work?
The flexibility of the model. The flexibility of the people who are signing up for these platforms, who mainly want to be able to connect and disconnect whenever they want. And then, on the business side, we have peaks in demand that, without a flexible system, we could not guarantee.
And in the case of license transfers, what happens?
It is a reality that there is fraud within the global network, we have detected it. The contract that we sign with each Glover is very clear, that it is personal and non-transferable. The culprit is the Glover, but we can do things to avoid it. We try to detect certain movements or certain behaviors that indicate that there is more than one user of an account and block them. Facial recognition would be the solution.
How has your life changed since you started Glovo?
Let's see, I say that this is the adventure of my life and that it is a dream come true. And I am very aware of the day to day. It is also a phase of personal growth. I think I trust a lot in the demand, in the effort. I am not one of those who believe that with 40 hours a week you can build something unique and very big. So there have been many sacrifices and there will continue to be.
Ideally, I want to continue with Glovo and continue to innovate and learn for many more years, and perhaps later there will be more entrepreneurial adventures. But to be honest, I think we will never have another one this big.
---
For more interviews about startups, business, and technology, visit our channel or subscribe to the newsletter!
This post is also available in: Español (Spanish)