Startups
Olapic: From Pivoting To A $130 Million Acquisition
Pau Sabria, the co-founder of Olapic, shares the company's journey, an impressive case that goes through crises, pivots, growth, and finally its $130 million acquisition by Monotype.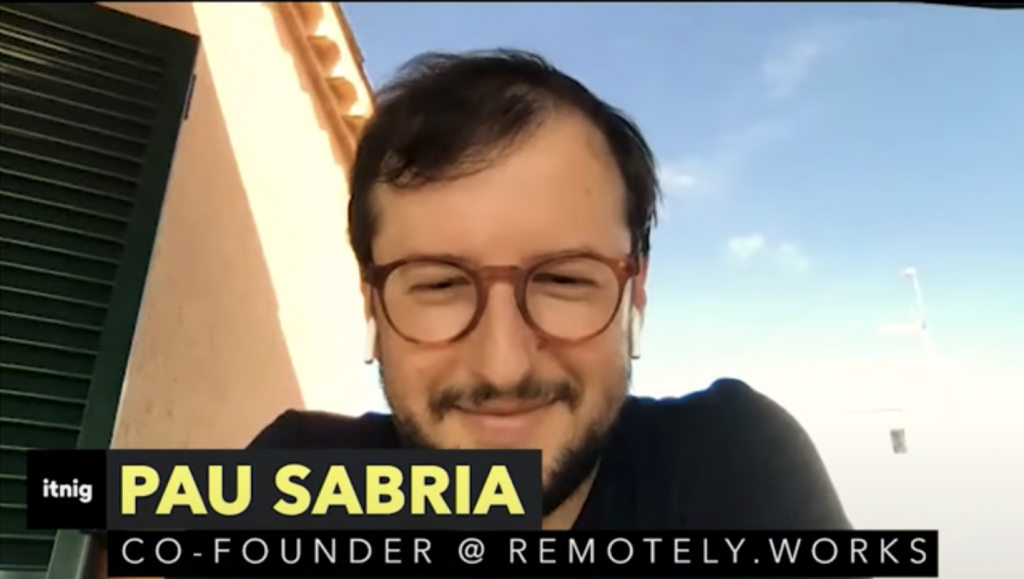 Why did you found Olapic in the United States?
I was born and raised in Barcelona, but I grew up in an environment where I was told very well about degree programs in the United States, about how meritocracy is valued and that if you work hard, good things can come of it. I was studying at the UPC, in Barcelona, but I always had in mind the possibility of going to study some kind of postgraduate degree in the United States. I went to work in one of these large consulting firms, where the program and sponsorship to go to study a graduate program in the United States falls within what is the career plan within the company. And that seemed perfect to me because you work three years, and then they pay you a master's degree. And that's how I came to the United States. I arrived in New York in 2008 and decided not to return to BCG and repay the master.
How was your experience of studying an MBA at Columbia?
The truth is that most of the things related to business, management, communication, presentation, strategy, and even finance, I learned it, especially in BCG. Columbia has to embrace and adapt to very different profiles and environments of students so it was less aggressive learning. Still, it is an experience that I would recommend to many people.
Where did you meet your co-founders? Who are they?
I met my co-founders in Columbia. When you want to start something, you have to find someone who is in the same vital moment, that was a very big opportunity for me. They are José de Cabo and Luis Sanz, who is now the CEO of CARTO, and with Jose, we are starting our second company, Remotely Works.
People say starting a business is expensive, because you have to get money and you have to survive and so on. In my case, I started with a negative networth. I had a huge debt, in addition, in our particular case we decided not to pay ourselves a salary for a year and a half after we graduated from Columbia. So we were a year and a half without pay and with debt. But I had two great co-founders, and it was an opportunity that, despite being somewhat risky, was an opportunity that I would have regretted not taking advantage of. Also, Columbia gave us our first funding at Olapic, without that I don't know if we would be here today.
On the other hand, I had a conversation with a friend from BCG who basically told me: «What is the real risk that you have ahead? Your real risk is relatively low because if it doesn't work out, you end up going back to BCG and they will welcome you back. It was a relatively low risk compared to what is the optionality of the startup. So viewed like this, it seemed relatively obvious.
How was the process of creating Olapic like?
Olapic was born from an intuition. It was founded in the United States at the time when the iPhone had been around for about a year, in summer 2008. And we realized the power that the iPhone had, its point of view, the ability to create photos. And then within that capacity, we saw the opportunity to create a photo aggregation system.
At first we offered it to consumers to solve a relatable problem. We took group trips and we wanted to share the photos after the trip and that was complicated. We tried to create a platform born from that and with a monetization approach. We started in the niche of weddings, what we created is a system of collecting photos to a gallery, additional printing products and so on. And a modern version of what used to be leaving disposable cameras on the wedding tables, and instead of doing that, using smartphones to collect photos. From there Olapic was born, completely different from what it became later.
At that time we saw the market. Two billion dollars are spent on weddings each year. What happens is that there is an insensitivity to the price, we were able to sell a premium account for 80 dollars when it is difficult to sell 80 dollars to any consumer online. We also realized that customer acquisition costs, advertising prices are also inflated by the same psychology. And competing with $ 80 in online photography seems like you're going to win when you compare yourself to other photography systems, but when you compare yourself to the one that sells rings or sells wedding firms, you know you're going to lose.
So we basically ended up pivoting a more B2B model. What would begin as a distribution strategy, became Olapic's base product. Our first pivot happened on October 2010, we had already graduated. We had raised a funding round, which would now be a pre-seed of $ 110,000 from Columbia, from business angels and friends and family, basically. And we pivot to a model where what we created was the same intention of collecting photos from an audience, but offering it to the media.
In October 2010 Instagram appeared and then in the summer of 2011, a year later, we invented the contribution via hashtag. The hashtag came out and started to gain traction on Twitter and we started using the Instagram and Twitter APIs to collect photos via hashtags. Back then, the hashtag symbol looked very "hacker", no one used hashtag to promote anything. We started to convince brands to promote this type of content.
So, basically, you added all the people who used a hashtag around a campaign, a brand, or a product and showed it on a feed within the brand page?
We create a small widget and a gallery, the entire set of photographs. The widget was like a subsection of that gallery, like a sub-album. And then the main idea for the media was to have, for example, an online newspaper like El Mundo Deportivo having photos of football, basketball, photos of the audience that goes to Barça matches, etc. But then there are the photos of the particular game that happened this weekend and then, in the news where it is shared what has happened in the game, one can also see the photos of that game taken from the users. We launched that around the beginning of the summer of 2011. We went in with a series of pilots with various media outlets.
We entered a startup acceleration program in New York, we spent the summer there and when we left, we started raising our first seed round in September 2011 and we closed that round in February 2012. And that's when we finally got ourselves a salary.
We had set up raising money from professional investors as the check-mark to show that we had managed to convince someone else that we deserved a salary. As an entrepreneur, there is a very clear decision about whether the money goes to your pocket or to make the company successful. If I get a hell of a salary, then I'll have less money to make this work. And maybe a better salary for yourself prevents you from hiring a person who is key to the company. We are not here to earn a salary, and I believe that getting to generate enough cash to pay a salary is the most difficult thing that I have done in my life. Because it doesn't come out of anywhere, you have to create a product that someone wants, and also wants to pay for it.
When we raised the seed round, we had employees, revenue, product, clients, we had everything. What happened is that up to that point, in particular, we had this obsession that we would prefer not to have that salary to be able to hire someone else, to be able to make it bigger, to be able to raise the capital round, and etc. That was our priority.
What kind of metrics did you have when you raised that round?
We had a product that worked and it was being used by about five or ten clients. We had powerful means of communication, they were not just any blog. We had generated and charged for licenses, for our software, with which we had a capacity to sell, we had shown that people were willing to pay for it. And we had employees who had joined our project.
Back then, in 2012, we were at the beginning of the recovery from the 2008 recession. So VCs really weren't that optimistic. It was not easy, it took us six months to raise that round. We were very, very, very close to dying in January 2012. We had $ 3,000 in the bank account and we managed to close a contract that paid us in advance and with that we got to pay all employees except us (founders).
We almost died, but we finally managed to raise $ 825,000 in February 2012. With that, we created a team and moved on to the next pivot.
We raised that round and in the summer of 2012, we expanded our product, tested a new line of business: eCommerce brands, where we use the same technology but adapted to eCommerce stores where the photos are of the products, not only events or news. There the intention was to increase the conversion rate of an eCommerce. It is an evolution of the initial theory of ratings and reviews of eCommerce, the stars, and the comments of the product that you read. If you see how the product really is, or how it looks on another person who looks more like me instead of a model, then I will be more likely to compare.
That summer we did a couple of pilots, and again with a handful of clients, some very good brands, we managed to show in a more statistical way that there was an increase in conversion. That opened up a world of possibilities for us. One, because the return of the value model is very clear. And two, the business model can scale with the size of the eCommerce, because if the conversion rate increases, regardless of the size of the eCommerce, one can charge more, despite the fact that your costs are similar. And we showed that there was an increase in conversion. Today, people no longer question not having ratings or reviews on a web page, if you don't have them, nobody trusts the brand or the product. It is also true that we followed fairly simple things by intuition. Amazon was already doing it, and if Amazon does it, it's because it works.
We realized is that a photo is not an opinion, but rather a point of view and that semantics is very important because this is not about finding a photo that tells me if I like it. It is about finding a photo that works for me. What we realized is that within the customer journey, the type of content you need in each phase is different. The perfect photo creates awareness and a branding association. And then you need both types of content – you need one that is aspirational and attention-grabbing and eye-catching, but then you need another type of content at the time of conversion, a more realistic one to help you make the final decision.
How did Olapic evolve with this new business model and how far did it grow in metrics?
In the summer of 2012, we launched the product. In September 2012 we saw the conversion increase. At the end of 2012 we would be billing around 80,000 dollars a month, of which 10,000 came from eCommerce and the rest, the remaining seventy thousand came from the media. And then we'd be around a million dollars ARR. At that moment we decided to pivot, we decided to bet on the 10,000 of eCommerce and not so much for the media.
We decided to raise new capital with our new story. And in that story, we already pitched only the eCommerce part. The vast majority of VCs told us to come back when the eCommerce part had grown and when we had completed that pivot.
We were able to raise 5 million dollars in a Series A that we closed in July 2013. In that month we would be at 140.000 MRR and half of it was from eCommerce. We realized that our Unit Economics had improved a lot, our sales cycle was cut in two. Our average ticket was increased by two. And all these thanks to the fact that our value proposition became much clearer and our way of creating value was much more understandable and demonstrable.
We focused on big brands. We made a study of what was the best way to grow and we decided to go for the enterprise. We spent a lot of time thinking about that decision and in the end, I think it was the right one. Because what we were creating was relatively new. It was very different from other markets where you're offering a product that already exists.
At that point, when we raised that round, we were almost cash flow positive. By December 2013 we had about 50 employees. In early 2014 my partner, Cabo, moved to London to open Olapic's European office. And then everything got crazy because we began to grow and grow and grow and grow. Until Monotype made an offer to buy.
You say that Olapic had about 140 thousand euros of MRR at that time. How did it evolve? The model grew and you raised another round of 15 million euros, right?
When we had raised our Series A, it proved that our model made all the sense, and we started to grow. We have competitors everywhere.
Throughout 2014-2015, we expanded, we not only put photos in the e-commerce product page, but those photos could then be used for advertising, for email campaigns. And we extended it, let's say, from what would be the use case of an eCommerce, to what would be a more general marketing use case.
We were doing very well and we continued to grow. We did a geographic expansion. In 2015 we raised 15 million from Unilever and another VC. We continued to grow at rates of 80, 90 percent per year, in a relatively capital efficient way, especially with our competitors.
For SaaS models creating a new market, it is very difficult to be profitable because you have it uphill every day, which is to convince the market that they need this new product or service they didn't even know it existed.
There are a few success cases, Mailchimp, for example.
But email has been around for a long time and email campaigns are not new. In other words, they didn't have to convince anyone that email was important. On the contrary, Olapic is not a product that people were asking for or looking for. I believe that there are two types of products. There are products that already have a budget assigned and you are going to solve an existing need, which has to be solved in some way. Or you are going to ask someone for money to try something new.
It's either taking the market away from someone else or creating a new market. Both are expensive.
Obviously it is not easy. But there are opportunities where they have been able to leverage the tailwinds you generate to find you an adjacent vertical and be extremely profitable. It was not easy, but we were much more capital-efficient than the rest.
When and why did you decide to sell Olapic?
In early 2016, there is a lot of volatility in VC interest. One month they wanted to give us a lot of money, the next month they told us that we are the worst thing ever, next month they want to give us more money than the previous month, etc. There was a lot of volatility in the markets. There was also a lot of uncertainty with the elections in the United States…
In this environment, my partners and I take a look at Olapic and we realized that we had around 100 employees. From a cash flow point of view, we were fine because we had it very controlled and we always operated within a plan where we were able to bring the business to profitability within the capabilities of the cash balance we had within the company. But, we thought that if we were going to continue growing at those rates, we were going to have to raise capital and if we had to consider a sale, we had to consider it at that moment.
The main reason was the volatility of the VC market, where we perceived that as a business that, from a cash flow point of view, was negative, we needed funding. And if that funding was no longer available, we had to consider other types of decisions. If those two options were not possible, we would have brought the company to profitability. I think we were close to ten million. And we were growing at around two or three million per quarter.
Olapic was acquired by Monotype for $130 million. How was the process like?
Monotype contacted us on LinkedIn. They sent us a little message, and at first, I think "what is Monotype? This is a waste of time." We had raised 15 million dollars. They insisted again, and I ignored them again and they insisted a third time. So we decided to give them thirty minutes of our time. They told us their story and what they were looking for. We explained our vision, what we were doing, how we were doing it, and so on, but we told them that we were not interested in selling.
This was around March 2016. We decided to buy one of our pseudo-competitors. Monotype contacted us again! So we had a meeting in San Francisco and we asked them for an offer of what could be a possible purchase because we didn't want to waste time.
They invite us to make a presentation to make an offer. That was in the summer of 2016. We didn't look for any more buyers or anything like that. We saw a great opportunity, so we talked to the Board and discussed the situation.
We decided to sell Olapic, the acquisition was closed and announced in July and the acquisition ended in August 2016. Eventually, you end up knowing if it was a good decision. In our case, it was a good decision.
---
For more interviews about startups, business, and technology, visit our channel or subscribe to the newsletter.
This post is also available in: Español (Spanish)