Fund
How Syra Coffee Joined the Itnig Family
Syra Coffee is a specialty coffee brand with several coffee shops in Barcelona. On the other hand, Itnig invests in technology projects. What do a coffee brand and an investment fund for tech startups have in common?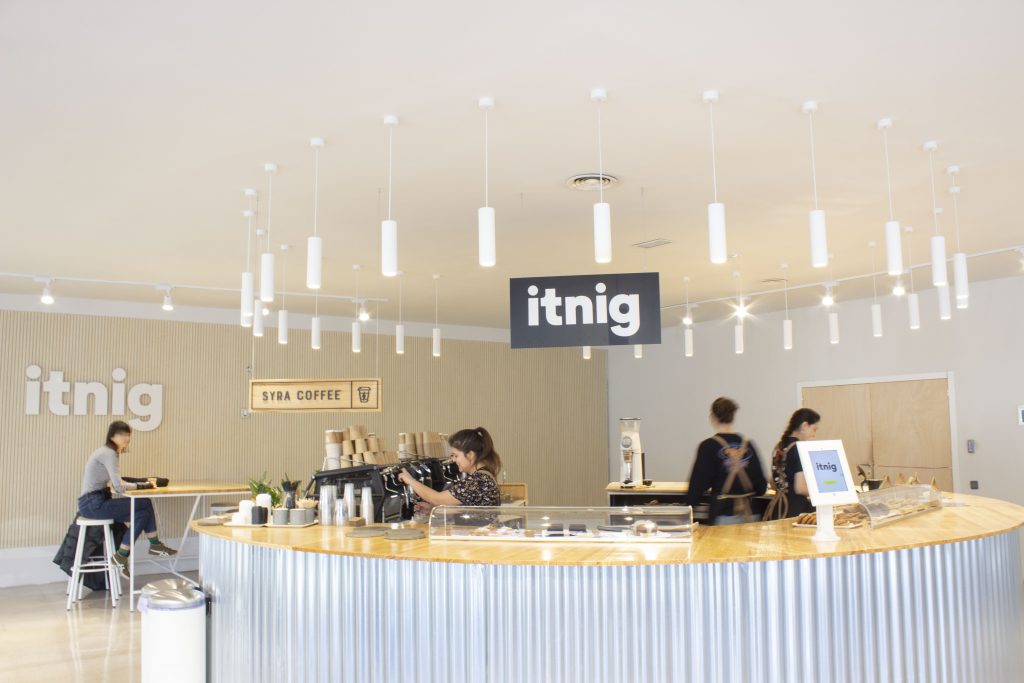 At Itnig we have always dedicated ourselves to the investment and operation of technological and digital businesses. However, we met a different kind of entrepreneur. He wasn't a tech entrepreneur, but he had an ambition, he had a model that we saw was really scalable. We evaluated the model, and we really liked the vision and concept. From our perspective, it was succeeding and it was a scalable business. Yassir Raïs is the founder and creator of Syra Coffee.
What's Syra Coffee's story?
Yassir Raïs:
Syra was born in October 2015. I'm from Barcelona and I'm an architect. I was spending the summer here in Barcelona before leaving to Paris for the first year of my Master's in Architecture. One day, I found a very nice and very cheap place in Gracia's neighborhood.
I was a big consumer of specialty coffee in Paris and it was becoming trending here in Barcelona, so I decided to take a risk. In other words, I negotiated the place and took it. So, I called my best friend, an architect too, and in ten days we began to make reforms and work on a possible café in that small place in Gracia.
I already knew three or four months before that I wanted to build something. I made some stools – from a cafeteria that I did not know yet what I was going to build – and the manual and the logo were also already done. Everything was done, only the name was missing. I spent about two, three days creating the whole Syra style manual, which was very important to me from the very beginning.
The concept is simple: specialty coffee. Specialty coffee means quality coffee and has nothing to do with mass coffee. It's fresh in-season coffee, roasted weekly, 100% single-origin Arabica, which means it's from the same farm.
I focused on offering specialty coffee in a very small place, with a takeaway model, something that wasn't very popular in Barcelona. I wanted to offer good coffee at a price that was very reasonable and very competitive.
I spent six years in Paris, I still go a lot. Everything that has to do with trends, fashion, or design, always starts in northern Europe and then goes down. Specialty coffee started to be a trend in London, then it arrived in Berlin. I was in Paris when it started to be a trend there and I knew it was going to arrive in Barcelona. There were already a couple of cafés and I thought it was time, and that it was something that was missing here.
My plan with Syra is to expand through Europe, starting in Spain in cities like Madrid and Valencia. Then, I'd like to open Syra in France, Paris, and eventually more European cities. We are also developing a possible expansion in the Gulf countries, which is a very invisible market but is growing at an impressive speed. Specialty coffee enters with more difficulty in a country where there's already a strong coffee tradition.
If you want to succeed with specialty coffee, you have to democratize or educate people, make them understand why specialty coffee is worth it and better than mass coffee. In the Gulf countries, which was desert 40 years ago, coffee does exist, but it's not a trend. That is why we opened in Kuwait.
What's the secret of Syra Coffee's quality?
Yassir Raïs:
What sets us apart is the persistence that each cup of coffee has to be perfect. For me, that's what you sell. I can have the most beautiful cafeteria in the world, but if the coffee isn't good, people won't come back. So I want to offer everything, but coffee is the product and it has to be perfect.
There really is no secret. It's about taking care of all the phases of the process: from the moment there is a harvest and we have direct contact with the coffee farm. Now, for example, we have a coffee from El Salvador and another from Ethiopia, in these cases we do not know the farm directly, but we work with an importer who does.
All the artisanal aspect that we find in the coffee, we apply it to the premises, the branding, the architecture, the products that go alongside such as fresh milk, cakes, the treatment of customers, the training of baristas, everything.
Another important factor of Syra Coffee is our obsession with branding. We have always tried to have accessories around coffee, books that we are excited about, magazines, that kind of stuff. I always try to see everything through the prism of architectural design. One of the reasons why the investment is low is because I always work with two or three materials for each location.
The motto of Mies van der Rohe, who is one of my favorite architects "Less is more" is something that I have tried to apply to the concept and business: the simpler and the more we can focus on one thing, the easier it is to see better results.
I really like the word "democratize" good coffee, because the goal is to serve the product you are convinced of to as many people as possible. Being surrounded by startups and people who love to drink a lot (and good) coffee is what made the decision of joining the itnig family so easy and exciting!
What made Itnig decide to invest in Syra Coffee?
We liked that it is a trending market, a growing market. We also saw a first model that was tested, which was replicable, that could be done in other places, in other cities. And, of course, we loved Yassir as an entrepreneur, someone with ambition and desire to do things, which is essential for us.
Yassir was capable of building a business with very high margins compared to other types of business. His coffee shops always have customers. Syra's target is people looking for trends, people looking for novelty. And many times this novelty means more market. We saw a business that made a lot of financial sense and required little investment to scale.
Yassir is a very perfectionist person and wants to make the perfect coffee. For Itnig, that was key. There are many entrepreneurs who start a business and believe that the details are not that important. The search for the good product, the perfect product, fine-tuning it is essential because it's what makes Syra Coffee brand and stores what they are today.
Seeing all of Yassir's plans, we decided to rethink our funding thesis, and we decided to get into Syra's business because we saw that the model made sense, and we could add value to it. This is how we decided to open one of the Syra Coffee stores together with Itnig, in Poblenou. We converted an industrial warehouse of almost 1000 square meters into one of Itnig's coworking spaces, and a Syra Coffee cafeteria.
---
Itnig has an investment fund for early-stage projects. If you are an entrepreneur looking for funding, apply through our website.
This post is also available in: Español (Spanish)