podcast
Uvinum: Growing and Selling a Wine Marketplace
Bernat Farrero and Juan Rodríguez interview Nico Bour to explore the case of Uvinum, a wine marketplace. Nico explains the reasons behind the founding of the company, the problems involved in this kind of market, and the critical decisions that allowed the company to grow until its acquisition by Pernod Ricard.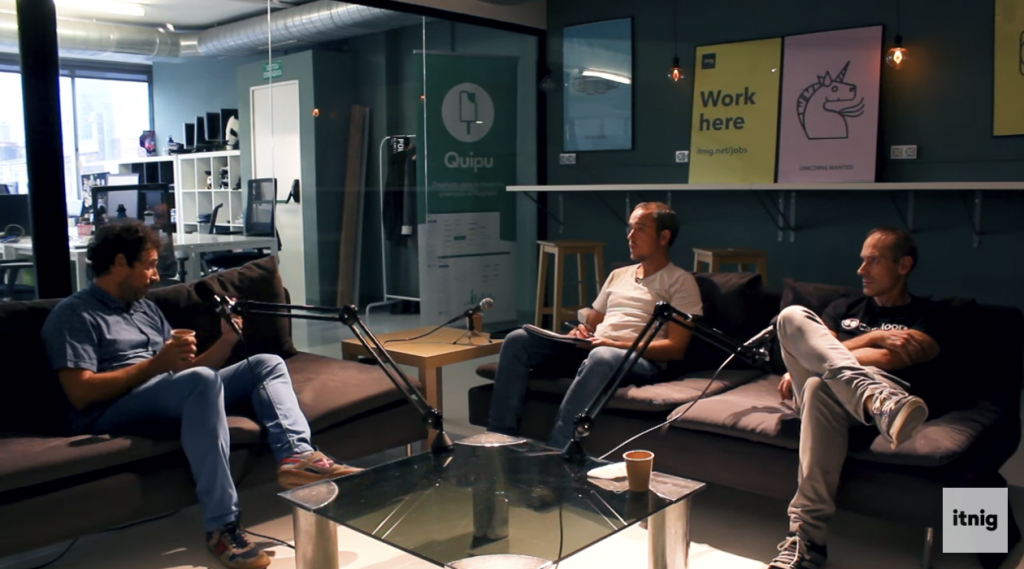 Nico founded Uvinum back in 2009 and sold the company in 2018 to Pernod Ricard. It's a very interesting story because Nico created a business in the same sector where his family had worked and ended up selling Uvinum to Pernod Ricard, a company to which his family had also sold to more than 50 years ago.
Why did you found Uvinum?
Let's go back to the beginning: 2009, 11 years ago. The world of wine and alcohol on the internet was nothing like it is today. We started to see the boom, especially in the United States. We saw an opportunity in the European market to try to concentrate supply and demand and above all, from a very social point of view. So we decided to do it.
I met my founding partners at Softonic: Albert López and Albert García. We began to investigate, while we continued working. I was working at eDreams and they were working at Softonic.
You come from eDreams and Softonic, which are Internet businesses. Why did you decide to enter the wine market?
Well, I wanted to build my own business. I made the decision to become an entrepreneur and then I focused on what I could build. I started to investigate a lot of markets and thanks to my family, I knew the wine sector very well. And I also knew the online world very well, because I had been working on it for ten years. And I realized that there was a huge opportunity in selling wine on the internet
I began to see very powerful things in the United States compared to Europe. I saw an opportunity, although I was aware that the market was still very small. In other words, online sales represented 1 percent of total B2C sales. I can say that, in 2009, I very much doubt that it represented more than 30 million euros.
Do most of the wine go to restaurants or to the final consumer?
We are from the countries of Europe where the strongest channel is hotels, restaurants, and bars, and in Spain, it must be around 70 percent.
We were clear that very a niche e-commerce was absurd because we live in a world that wants to know more and more things and not discover wines from one region only. Today we are in a world of exploration, of knowledge, of sharing. So, for that, what you have to do is discuss the distribution chain, be able to offer the largest quantity of wines worldwide, which was the goal. And finally, make a funnel.
The number of targets, profiles of wine, and alcohol consumers are extremely varied. The world of wine is extremely fragmented in taste and brands. I started Uvinum because I went to a supermarket with my 2,000 labels and I said «who understands anything in all this?» Nobody.
How do you choose the wine?
Promotion, branding, pretty label. A well-known brand, Torrez, Marques de Riscal, El Coto… it depends on your budget and a nice label. The designation of origin it's also important, we are not going to fool ourselves.
Is it the same process between going to a supermarket and buying it on the internet?
Yes, but it's much more complicated because you can only show a photo of a product. Uvinum sells up to 130 thousand wines. How do you get to the depth of the catalog of 130 thousand wines? It's very complicated. There is a lot of technology here, technology focused on what the consumer wants at all times and recommendations.
I decided to build Uvinum, because I found the market and opportunity. As I was saying, in that funnel between supply and demand, you need to offer the most important catalog, and be able to advise, recommend the specific product for each user. And with that objective, with that mission, Uvinum is launched on the market as the first European marketplace.
The marketplace was the only way, at the business model level, of being able to bring together all that offer because it is very expensive to have a bottle of wine in a warehouse. Imagine if you want to have hundreds of thousands of references that rotate. That is extremely difficult.
What is Uvinum business model?
Before becoming a marketplace, Uvinum's model began as a 'TripAdvisor' of the wine world. We wanted to have the largest catalog, generate very strong content quality and great user-generated content. And from there, being able to recommend the specific product to users and send them to the online store to buy the product there. It was a classic affiliation model, we made money with commissions. In other words, there were online stores but very small. That is precisely the strength of the aggregator. When e-commerce is little known, the aggregator does the hard work and is the one who builds the online brand.
We started like this and we managed to capture a good amount of audience. We raised a first funding round in the fourth month after launching, we raised a round of 300 thousand euros and Cabiedes joined, among many people from the ecosystem that we already knew.
But we realize that the model wasn't entirely working because although we send quality traffic to the stores, the stores were not converting, we weren't making money. That was the first great dilemma. That's when we decided to sell ourselves with a marketplace. So in a month we did a test and multiplied the conversion rate by 700 percent.
The thing about the affiliate model is that you get paid 30 days later because they pay you a commission. The client is not yours, it is from the affiliated website. Your only goal is for a user to click and leave because what you want is for them to buy. But, when you have the marketplace, all the money is yours.
For me, the marketplace is a game of chess. In the beginning, you have few providers, all their providers are queens, but little by little you make it grow, and you start to control the board. You have the money for 30, 45 days. Although we did not want to do e-commerce, it was the market that hit us and we knew how to see that the for e-commerce opportunity.
We began to grow in a notorious way, we began to form a team. We were always a very technological product, and although now there is a lot of technology to build marketplaces, in 2009 there was nothing. We created everything from scratch. All the code was made by us.
Our affiliates were distributors. Instead of working with wineries, we wanted catalog volume and that they had some experience in sending the product to the end customer because the product was sent by the partner to the end customer. We didn't do the picking, packing nor shipping. We were a purely online model. However, we depended on the supplier. That's when you have to play with your marketplace and control your providers, keep only the good ones and eliminate the others. That is more difficult to do when you have few. When you start to have many, it is already much easier.
How did Uvinum grow in terms of sales?
We grew, at first one hundred percent. And then, at the end of the fourth or fifth year, between 40, 40, 50 percent per year. We sold the company and we were at 12 million. The market was in our favor. We were number one. When you are a marketplace you are not the owner of the product either, you are an intermediary, the channel is not going to punish you for it
Why did you decide to sell the company?
We start to grow a little less and less. Well, a lot happens to us. We make money, but fair, we do not lose. I didn't set up Uvinum to make a good self-employment. It's not my way of life, super respectable, but I had been with the company for 8-9 years. Tiredness is beginning to arrive and, most importantly, I see that there are beginning to be players in the world that raise a lot of money, with the same model and a very great attraction, it has millions of users using its app. And then I started to see how Amazon is starting to enter the category as well, which is good. When players this big come in, it means the market is there.
We saw that there was a lot of money and that did worry me, because up to now we had been doing very well, being leaders within the market . But, at that point, we had 3 options. Either we did self-employment, which was impossible, or we raised three-five million to start doing something else. So we had to start moving into the real world of wine: logistics, shopping, warehouse. And it was something that personally didn't amuse me. It wasn't fun for me and I didn't have the skills. The third option was to look for a large global player that had our same vision, with a strong position and that apart from buying the economics, could also buy our technology, equipment, and brand.
So, we decided to go with the third option. I had a contact through my father, but we had no offer. The only thing we were clear about was that our buyer could not be Spanish. In Spain everyone knew us, we had relationships with everyone and we knew that at the volume level no one could buy us. We had to go abroad and for that, we had to make ourselves a little more known. In this world, you have to move your ass to make things happen. So we talked about it with the partners, they support us, and we went for it.
Pernod Ricard is a company that has a profit of $ 2 billion and a turnover of $ 13 billion. They own Beefeater and Absolut, among other great brands. So I sent an email, and after five minutes, the CEO forward us to the head of Digital. After two weeks, I went to Paris to their HQ and I sat there and I said to him "I want to sell the company and I want you to be my buyer." That's where we started, but we didn't talk for the next six months. Those large groups are groups that make it difficult for things to happen, but when things start to happen, it's very very very intense.
They had the need to enter a digital world and they are clear that they needed a platform and they needed a marketpalce. They preferred a more intermediary model to be able to be get to the user. These companies are global, they do not focus on one market, they are in dozens of markets. And the vision was very shared between both companies.
The negotiation process was a very hard and intense moment. The truth is that our case, as it surely happens in many cases, is a tremendously complicated process. We started the process in September and we had a real price offer in April. There even was another negotiation in April. The only thing I will say is that everyone made money, that we have all been happy.
Nobody regrets selling, but many people regret not having sold when they have had a chance. I think it's the best that could happen to Uvinum.
---
For more interviews about startups, business, and technology, visit our channel or subscribe to the newsletter.
This post is also available in: Español (Spanish)