Newsletter
Oscar Pierre On Itnig Podcast & Startups News
At Itnig, we know it's hard to keep up with all the news and updates flying around. This month, we had the opportunity to have a talk with Oscar Pierre, from Badi.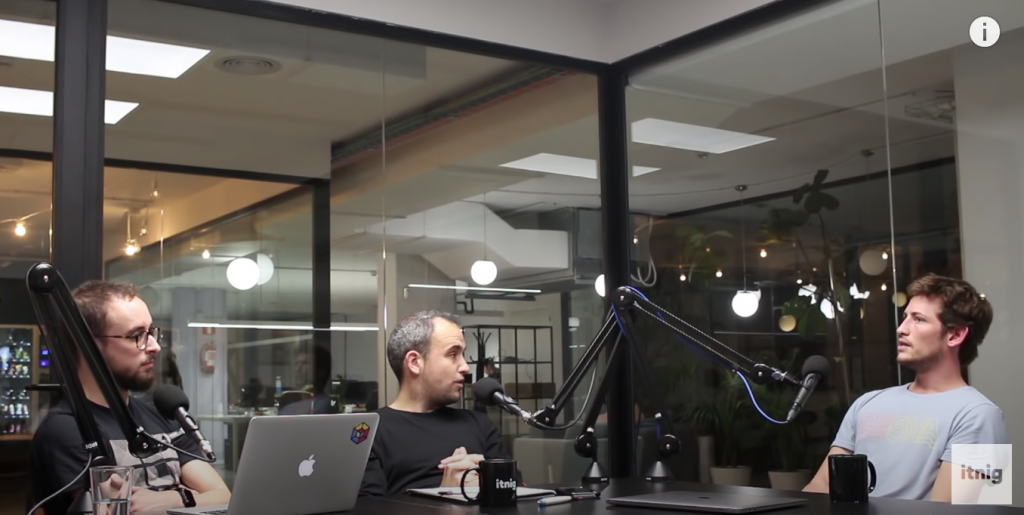 In this week's podcast, we talk about Badi, the startup considered by some as the Tinder of the flatmates. Carlos Pierre tells us how he plans to become the all-in-one room renting solution.
The company has raised around €40M so far and it yet does not have a clear monetisation strategy as its main goal is to become the leading company in a sector traditionally led by agencies.
That's not it, we have three other podcasts for you to listen!
Startup Inside Stories Podcast
In this week's podcast, we interview Eloi Gómez, from Jeff (formerly Mr Jeff). The company started as an online laundry and after a few tweaks and fine-tuning managed to open close to 2000 shops in just two years.
Last week the company announced the purchase of the personal training startup Entrenarme and the partnership with the hairdresser company Oh My Cut! Eloi takes the chance to explain how he plans to turn Jeff into the service superapp.
In this week's podcast, we take a look at restaurant preorders targetting lunches, an untapped business by the big delivery players. Alejandro Fresneda, founder of Mr. Noow, comes to our studio to explain to us how this works and how they acquire customers with coupons.
We took this chance to discuss how to balance customer-base growth versus revenue maximisation per user in the long run.
In this week's podcast, we take a look at the Free Tours. We invited Juan Castillo, founder and CEO at Guruwalk to explain to us how his company monetizes tours based on tips.
Juan believes his market is monopolistic so there can only be one player and he thinks Guruwalk has the recipe for it.
November Startup News & Updates
The Valencia-based startup Jeff bought Entrename and partner up with Oh My Cut! to become a super service app. We took the change to interview its CEO, Eloi Gómez to explain to us how they manage to run almost 2.000 laundry shops.
The startup landscape seems to be mostly fintech, but why is every startup a bank these days? If you want to try it yourself, here you can find 7 essential books for programmers. And hey, you might be wondering what replaces JavaScript, is WeAssembly the beginning of the end?
Plant-based food startups are spreading all over the world as you may know by the popular Impossible Burger. What you might not know is that European startups have joined this phenomenon as well. But, how to tell when one of these startups turn into a business?

Another startup trend that Europe keeps up with is the e-scooter market as we recently got to know that the Sweedish company VOI raised €85M to lead the sector in Europe. They are candidates to be one of the next unicorns, meanwhile here you can meet the unicorn class of 2019.
This week is all about crowdfunding. We tend to focus on VC led funding rounds but some startups are leaning towards the investments of the masses. We got to know that Madrid-based Bnext raised €3.3M in crowdfunding while Barcelona-based ID Finance captured €5.7M.

I know marketing is one of your main hassles but hold on for a second and check these 7 powerful ways to upgrade your email marketing campaigns and see why newsletters still work (I hope so!). If you use landings for your campaigns, we also got you covered with this free tool. Enjoy!
On another note, Uber ex-CEO Travis Kalanick has sold almost $900M in stock after lockup expired bringing his total sell-off to nearly $1B. And complementing that impressive figure, PayPal announced the acquisition of the Chrome-extension Honey for $4B! They should have tried a coupon code.
And a couple of things that might help you out. El Referente just published a report on initiatives to support startups in Spain. And this is how Slack content strategy expanded from a single page to a media company.
New Funding for Startups
Random Tech News
Twitter will stop all political ads.
Nokia's collapse turned a sleepy town in Finland into an internet wonderland.
An experiment to help us figure out what 'dark energy' is.
Uber used Bitcoin to pay $100K hacker ransom in 2017.
Indian nuclear plant was hit with a cyberattack.
Wallapop has been hacked.
Google buys Fitbit for $2.1 billion.
'Sexual' use of eggplant and peach emojis banned on Facebook and Instagram.
BONUS: Toddler password generator.
BONUS 2: 2009 Iceland's last McDonald's menu livestream.
Cyber attack hits Spanish companies including radio network.
Researchers say they can hack Alexa, Google Home or Siri with a laser.
Mariana Mazzucato's plan to fix capitalism.
New Adobe tool can detect if a face has been photoshopped.
A16z's free seven-week educational program on crytpo.
YouTube rolls out big changes to its desktop homepage.
Facebook internal documents and emails published online in full.
Disney's streaming platform Disney+ will launch in the UK, Germany, Italy, France and Spain in March 2020.
BONUS: "Sweet Home Alabama" played on Tesla coils.
EU Bank launches ambitious new climate strategy and Energy Lending Policy.
Twitter will launch new feature called 'Topics'.
Planned Parenthood launches clinic search tool to make abortion safer in the US.
Facebook fixed bug that opened your camera without permission.
Elon Musk picks Berlin for Tesla's Europe Gigafactory.
Apple Card's algorithm under investigation for sexist credit checks.
Apple's AR headset will reportedly arrive in 2022, its glasses in 2023.
The 'ESC' key is back in the new Apple MacBook.
Amazon sells a $19,000 do-it-yourself tiny-home kit that takes only 2 days to build.
Elon Musk tweets they've received 146K orders of their new Tesla Cybertruck after their shares plunge by 6%.
Non-profit .org sold to private equity firm.
Google's ambitious healthcare plans.
Amazon will pay $0 in taxes on $11,200,000,000 in profit.
WhatsApp fixes bug that would have let hackers exploit devices using MP4 files.
Valve's Half-Life is back, now in VR.
AI creates the perfect(ish) Nike commercial after studying 7 years of ads.
Google Assistant introduces personalized playlists of audio news.
This Japanese hotel room costs $1 a night but you have to livestream your stay.
---
Those are November 2019 startup news!
At Itnig, we write a weekly newsletter where we keep our community updated on everything related to startups, tech news, fundings, and we share our weekly podcast!
Subscribe and keep up with the startup universe, or feel free to come back for more startup news of the month here!