Newsletter
Itnig Event Venue & other Startups News
At Itnig, we know it's hard to keep up with all the news and updates flying around. Last month, we told we opened up a new coworking space and a new coffice in partnership with Syra Coffee. Well, this month, we opened an event venue for up to 100 people.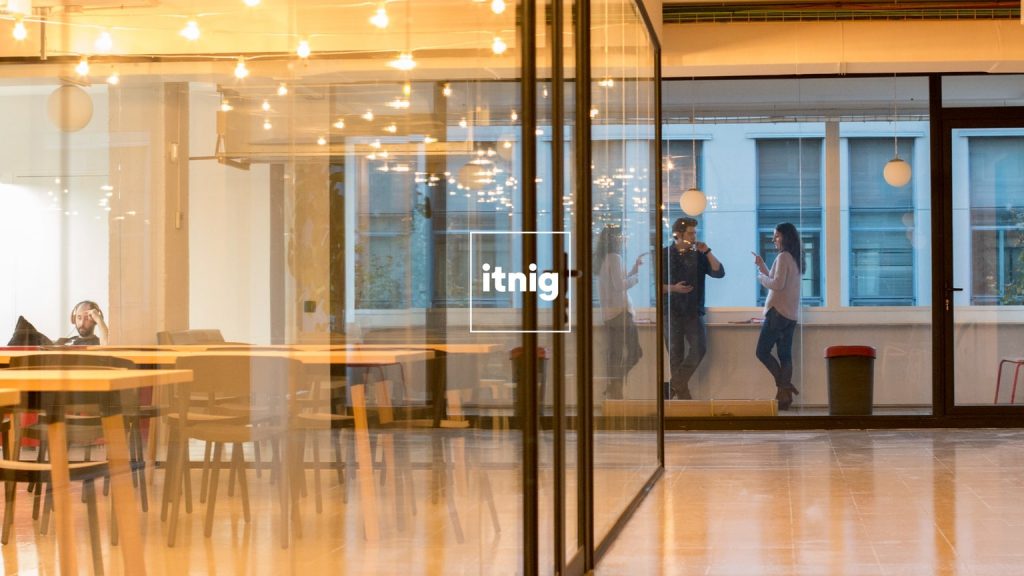 This industrial building used to be a printer factory. Now it has become a space which welcomes events, but you will also find meetings rooms and 2 coworking spaces. With it's high ceiling and all the light from the lights t's the perfect place for working , host and event or just enjoy a beer.
It's on ground level, with it's own terrace and lots of plants. The combination of wood and white concrete lakes the space cosy and gives a friendly and pleasant atmosphere.
If you'd like to organize an event in the future, don't hesitate to contact us.
Startup Inside Stories Podcast
In this week's podcast, we bring Ildefonso García-Serena, one of those inspiring people that should be taken as a reference. He has developed a successful career doing marketing for big brands and he tells us quite come anecdotes generated along the way.

Among many other things, he tells us about the story behind the "Sueldo para toda la vida" campaign that is still up and running. When working Moulinex 1, 2 3, he also had very big successes in its fight against Braun.
Ildefonso has just presented a book called El Hijo del Doctor that will be available on September 18 in the bookstores. Check out the podcast.
In this week's podcast, Gerard Martret, CEO at Shotl visits our facilities to get an in-depth analysis of the on-demand mobility sector.
Shotl is a family venture as the Martret brothers have started off the company together after their success building up Drivania, a with-chauffeur car rental service that targets high-end consumers.
Gerard explains how his fast-growing startup works and how he plans to compete with other international players. Check out the podcast:
In this week's podcast, we bring financing to the table to answer the question "how to finance your startup?". This time we counted on 3 CFOs members of BCNCFO, a group formed by CFOs of the top Spanish startups: Isaac Cabezas (Paack), María Fierro (Vilynx.com) and Lluís Vidal (COO at Exoticca).
To make things even more interesting, the guiding questions were asked by other startup CFOs interested in getting to know their opinion on matters like funding mechanisms or when should a startup have a CFO. Do you have more questions? Ask them in the video!
August Startup News & Updates
If you thought that fighting against Amazon was impossible, think again. Wish has raised a $300M Series H focusing on completely different ends of the online-shopping experience spectrum.

Some other giants might be suffering some damage as Uber has fired 400 people from its marketing team in restructuring and Lyft's COO has just left the company. Better news for the food delivery sector as Takeaway and Just Eat are expected to merge in a $10B deal to take on Deliveroo and Uber Eats in Europe.
We know we are not the only ones trying to optimise software development so it might be useful to learn "The art of interrupting software engineers".
Entrepreneurship has nothing to do with age and Alexandr Wang has proven it right as at the age of 22, his company Scale AI has locked down $100M in the market of data-labeling. The company has closed a deal at an over $1B valuation. But if you prefer working for Apple, we also have some tips for you.
As you might be developing your marketing plan, we've got you covered. Voice searches can be your secret weapon; consider developing your Instagram aesthetic by checking some companies doing it right, or take a look at a complete guide to paid advertisement.
WeWork has been flooding all the headlines by filing pre-IPO documents. It's hard to understand what the market will say in the end but you can take a look at some charts to build your own opinions.
If you are planning on creating your own startup and you are looking into accelerators, check out this list mentioning 100 top accelerators around the world. If what you need is investment, you can also check out our early-stage fund!
Pau Fernández took a look into the reasons why Disney will dominate the media industry. Do you think the same way?
One of the key points of startup growth is to ensure correct finance management and we have invited some CFOs to explain to us how they do it. Having a good financial strategy is basic to get VC funding but do you know who are the major revenue-based VCs?
This week followed the trend of announcing a new fintech unicorns. In this case, it's the turn of Numbrs which just raised $40M. If your startup is also and you are thinking of selling it, there are some things you have to have in mind when getting ready for it.
New Funding for Startups
Random Tech News
---
Those are August 2019 startup news!
At Itnig, we write a weekly newsletter where we keep our community updated on everything related to startups, tech news, fundings, and we share our weekly podcast!
Subscribe and keep up with the startup universe, or feel free to come back for more startup news of the month here!