podcast
Podcasting 101: A Guide to Launch Your Own Podcast
Let's talk about how to make a podcast. At Itnig we wanted to share our conversations about business to bring knowledge and experience to the entire community of entrepreneurs. This is how our podcast was born and we have been sharing interviews every week for more than 2 years.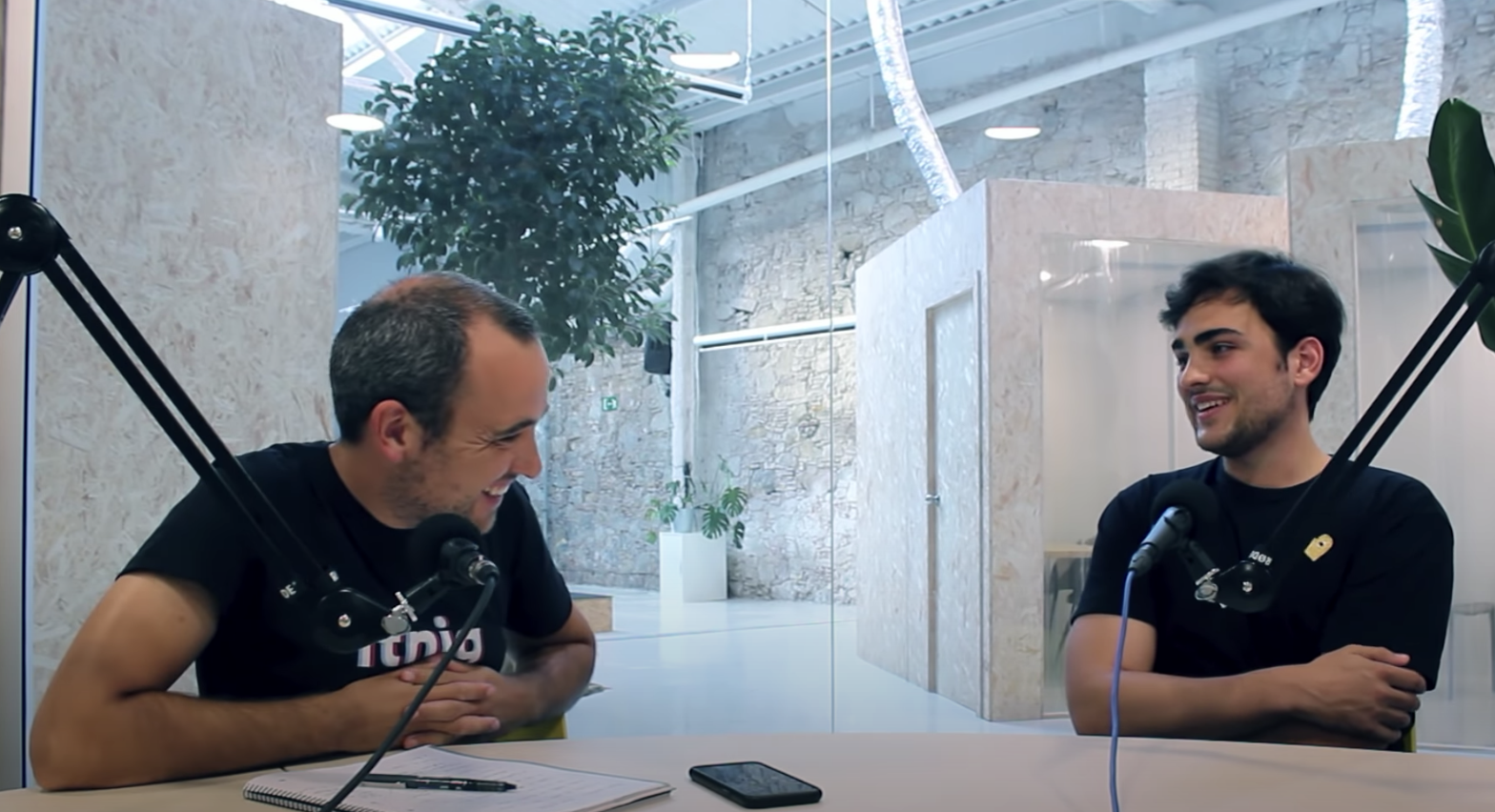 We invite CEOs, founders, investors, and startups to talk about business, entrepreneurship, and technology. We have had guests like Glovo, Softonic, BlaBlaCar, eDreams, Fintonic, and many more! We do it to share knowledge, experiences, advice, and concerns with the entire entrepreneurial community and tech lovers.
The truth is that making a podcast requires creativity, time, dedication, judgment, and attitude, among other things. As podcasters ourselves, we've come up with a quick guide on how to make a podcast.
What is a podcast?
A podcast consists of a series of audio episodes, all focused on a particular topic or topics such as marketing or startups. It is content that entertains, educates, and inspires us. The user can subscribe to the program and listen to episodes whenever they want with just one click. We almost always listen to podcasts while doing another activity. It is perfect to keep us company on our way to the office or university, in the gym, etc.
The concept of the podcast has become more popular in the last two years. It has become a habit, consumed daily by millions of users through platforms such as Spotify or Apple Podcasts.
Where does the word "podcast" come from?
The "pod" of the podcast comes from the name of "iPod", the Apple player; and the "cast" part of the comes from the English term "broadcast".
How to make a podcast
Before you start creating a podcast, ask yourself:
Why do you want to do a podcast?
Who is it for?
Why would people want to hear it?
You should also keep in mind that it will take time and dedication. Here are the basic steps to follow:
1. Choose a theme + name
Most podcasts follow a particular topic and it's present in each episode. It can be something really specific, like tech startups, or something more general, like how to be more productive. If your podcast is about startups, each episode can talk about a specific startup or specific business model, for example.
The name has to be catchy, something that grabs people's attention, but also something that goes along with the topics and the tone of your program.
2. Choose the tone, the personality
There are many types of podcasts. There are a lot of really simple ones where only a couple of friends casually comment on the subject. There are others that are very polished and super professional, including sound effects, professional editing, and music. The most professional podcasts are great to listen to, but they take a lot more time and money to produce.
You have to ask yourself what type of podcast best suits the theme and objectives you have in mind.
3. The host
The most important factor in most podcasts is the host (or hosts). The host has the mission of guiding the conversation to engage the listener, entertain, and contribute. It is important to decide if your podcast will have guests in each episode, as the host must guide and encourage the guest to participate as well as possible in the conversation.
4. Duration and frequency
There are no rules regarding the duration. They can range from a 1-minute news snippet to a 3-hour in-depth interview. This depends on the theme, tone, and objective. They can also be of any frequency, from daily to monthly. It is advisable to be faithful to the frequency you choose, if you choose to do it weekly, you cannot miss a week!
5. Format and platforms
Most podcasts are audio-only, although there are video podcasts, such as Itnig's. You can ask yourself if the theme, tone, and montage of your podcast requires video, or just audio is enough. The video format requires more editing and time.
Itnig recommends:
1. Recording with the "Audio Notes" application on your phone is NOT the best idea. This is very practical, obviously, but it won't have the best quality, that's for sure. You can do it mostly to practice.
2. Be natural, no one wants to hear a podcast of someone speaking as if they were reading a teleprompter or a robot.
3. If you shoot video, make the background and atmosphere go hand in hand with the theme and be nice to watch.
4. Design a cover for your podcast. Be creative, but consistent with the theme and tone. Pick a cover that has impact and will attract listeners to listen to your podcast.
Some tools:
Microphones: it's worth it. The audio will be professional and it will not be torture to listen to the podcast. Here you have microphone options for podcasts. You also have options for audio recorders.
Script: write the questions or topics to be discussed during the episode, so that you do not get lost or deviate in the conversation. However, having a script does not force you to anything, you must be flexible and that the conversation is fluid, that it does not seem like an interrogation.
Sound or music effects: adding an intro makes it more "pro", and your listeners can have a context of what they will hear during the episode or what to expect from your podcast. Also, an intro gives your podcast identity.
Camera: If you are going to record video, do it with a camera (not mobile). Put it on a tripod or a stable place. Choose a good background and atmosphere that does not bore the viewer to death and gives the podcast dynamism.
Video and audio editor: You can use Final Cut, or Premiere Pro, to edit audio and video at the same time, put subtitles if you prefer, and add extra music or sounds. If you only want to edit audio, you can use Audacity, Adobe Audition, or Alitu.
If you want to record a video call, Zoom allows you to record both video and audio of a video conference. You can also use Loom to record your screen.
Platforms for podcasters
Your own website:
You may want to jump into podcasting because you have a business / project that could benefit from the added value of a podcast on it. You can include a podcast section within the business / project website. For example, in Itnig we have a section dedicated to our podcast on our website. Otherwise, if you don't have a website that already exists, you can create one dedicated exclusively to the podcast.
Anchor
This platform allows you to upload the audio files and publish them to 11 different audio platforms, among which are Spotify, Apple Podcast, and Google Podcast. It is perfect to have a presence on several platforms at the same time, by uploading your episodes in a single portal. It also allows you to record and edit the audio within the same platform before uploading it.
Buzzsprout
More than 100,000 podcasters use Buzzsprout. It's an easy platform to produce, publish, and track your podcast. It has a free trial period and it also publishes your podcast on several platforms at the same time.
PodBean
With unlimited hosting services, distribution, and promotion on iTunes, Google Play, Spotify, Amazon Alexa, and all the major applications and directories.
PodcastFeed
Their motto is simple and easy. It also has a wide range of platforms and helps podcast monitoring. In addition, there is no limit to the number of episodes uploaded, you can upload as many as you want!
---
We hope this Podcast 101 guide helps you get started, in addition to discovering programs to follow and listen to as you go about your day. Ultimately, podcasts are an ideal format for most of us, whether as hosts or listeners. We are in the age of content, so we invite you to continue exploring.
Subscribe to our channel or listen to us on Spotify or Apple Podcast!
If you have more questions about how to make a podcast, drop us a line at [email protected]
This post is also available in: Español (Spanish)