Startups
Building Unicorns with Juan Rodríguez, CEO of Camaloon
Juan Rodríguez has been key in building two unicorns, OtterBox and Telepizza, from strategy to management, and leadership. Today he is the CEO of Camaloon, an eCommerce that allows you to design and customize all kinds of products.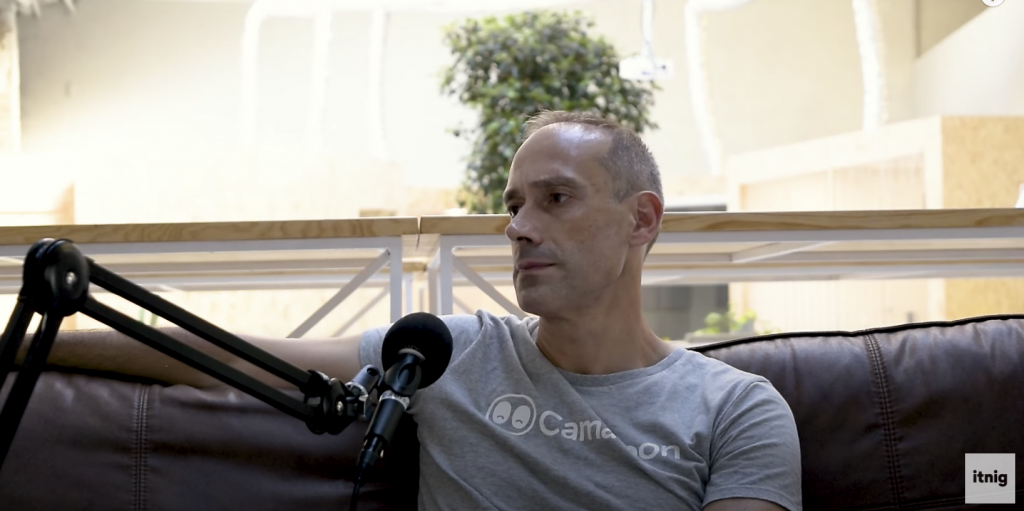 In this interview, Juan talks about his experience as CEO of OtterBox and how he led the company's growth through an aggressive distribution strategy. He also explains why he chose to move to eCommerce with Camaloon, the first startup created by Itnig.
What did you do after leaving Telepizza?
I realized I needed to go back to the United States, which I consider home. There, I worked in investment banking while studying an MBA at Harvard. While working in investment banking, I received a client who asked me for a business plan to guide his product, which was a protective plastic to protect fishing rods. More specifically, he asked me for a business plan to use that technology to protect smartphones. This client was the founder of OtterBox. It was a stage of my life in which I wanted to get out of investment banking. More than that, I saw that it had business potential and it seemed like a huge challenge to me. Being back in the United States and entering this new project excited me a lot. OtterBox wanted to work on high-quality mobile cases. Something as simple as that. I joined as the CEO of the company.
What did you do as CEO of OtterBox?
It was 2008, I think. I defined the company's strategy: where were we going, what was our product, what was our market, what were the keys to success. In our case, the distribution strategy was key. We were very good at making the distribution strategy. You have to consider what type of company you need, and generate the roadmap for the next few years. So I thought about what we were going to do for the next 2-3 years and how we were going to execute it. In that process, we had to remove things that already existed, such as closing the factory that existed and setting it up in China and another in Mexico. Both were controlled by us, it was not a provider.
Why did you open factories in China and Mexico?
Because of costs and margins. Because that allowed us to enter distribution with a reasonable margin. I saw the growth. It was going to be a brutal market, which is a volume market, that its distribution and cost market, which is a market where you have to continuously innovate. Our strategy was to go offline, online, have national distribution, grow very fast, dominate the market. We had competitors, LifeProof, for example, was a competitor of ours that we ended up buying in 2013.
It was about positioning on one side of the market with a product that is worth a lot of money, like an iPhone. The customer is someone who owns an iPhone or Samsung. That customer is not buying Chinese covers but is looking for a product that they know will withstand any use. You have to know who your client is and what is the price range in which you can move. LifeProof had a lot of synergy with us and we bought it at an exceptional price, because it brought us a lot of technology and capillarity in California, an important point of the market.
The key part was distribution?
Everything is important, but in the end, you need to distribute and do it very fast. We had distributors and we combined everything. We did both B2B and B2C, we combined online and offline, we combined distributors to the point of working with Wall-Mart. We combined everything, we were super aggressive and we achieved very quickly that everyone knew the brand, that everyone saw that we had a product that perfectly adjusted to what the consumer wanted and also at a very good price. And from there we started to innovate a lot and have a lot of distribution.
How did the company grow?
At full speed. When I left we had a turnover of 2,500 million. I think that if you want to play big, you have to be in the United States, it is a very large market that gives you a capacity for scale and size, which in Europe is very difficult.
Where do you stand between growth and profitability?
Many times this dichotomy is false. Always growing. Because growth leads to profitability. Profitability, in the short term, often does not lead to growth.
Now, you may think that profitability is more important. You can consider being profitable in the short term, making cash so that later it can grow faster. You can also burn cash in the short term because you are convinced that in the medium or long term it will make sense. The medium and long term is something that is going to happen and the short term is happening now.
The companies I've worked for have been very capital efficient and have generated a lot of returns. Obviously nobody likes to dilute. It is true that there are sectors where it is more difficult to generate margins of 30 percent in the short term because they are undergoing transformation, because there is a specific, competitive dynamic, and so on.
What is it like to open an Asian market? And how did OtterBox grow on the Asian continent?
We had to send someone from OtterBox. It was an American who put the Asian market in order. From my experience with Telepizza, I knew that I had to bring trained people from 'home' who knew the culture in the US. You have to bring educated people who have cultural knowledge of the Asian market, but also people who are from home, who are trustworthy, who understand your business, who you can trust, in whom you do not have to explain everything from scratch. You have the same DNA, the same beliefs, the same way of talking to you, and so on.
Opening a very large, very efficient factory with production processes is a very important responsibility. You have to take someone who, even though they're ten thousand kilometers away, is as if they were crossing the sidewalk.
Why did you leave OtterBox?
We didn't go public. It was an important IPO, which also on a professional level and on a personal and economic level would have been very powerful for me. And there came a time when my wife and I questioned ourselves about what were our plans. It was clear to me that I wanted to leave the company, and we decided to come back to Europe. I never understood why the company did not go public.
Why did you decide to join Camaloon?
I came to Spain and looked for Internet companies. I really like eCommerce because I think that, at the CEO management level, there is nothing more difficult, nothing more beautiful. The complexity of an eCommerce, compared to a SaaS, having the operation changes everything. You have the factory, the logistics, the distribution, it's a real operation. Then you have the whole technological development part. You have a huge level of competition, and, on a financial level, it's much more complex to manage. I think that eCommerce requires a very high level of demand at the management level. So that was and is also a big challenge for me.
Furthermore, eCommerce does not have many entry barriers. So, setting up e-commerce, just like setting up a business, is something that everyone can do. Everyone can have an eCommerce with Shopify. If you are only a distributor of a product, you don't manufacture it, you don't produce it, and the logistics are done by a third party and then you go to Shopify to sell, you have no complexity. I am talking about e-commerce at a level of operation, production, etc. and also have a technological challenge. In the case of Camaloon, we are a company that has a brutal technological and product component, because we allow a product to be designed and customized. In other words, we have the complexity and we have all that other operational and financial part. Camaloon is a fully integrated model that has from the distribution, the entire production part, since the order is not stock, because the same client designs it, requests it, we produce it and we send it to them.
Camaloon has two important factors. One factor is technology, the process of design, and product customization. And added to that, it has all the complexity of handling a huge product catalog and design, an operation that is very varied because you have to print it and personify it with different techniques. Then you have the whole part of the product, the production operation, and the distribution of the product. Combining all of this creates a monster like Camaloon.
Camaloon has infinite potential, for two reasons. One of them is that the market exists, and it is huge. You don't have to build a market from scratch, you don't have to create a market, you don't have to wait for a market to come. The market exists and is growing and is trending. And then, on the other hand, I think there is no one who is capable of providing this comprehensive solution, which starts from the moment you have a design and you want to customize a product, until the moment that personalized product arrives at your home. So I think Camaloon has infinite possibilities. There are competition and competition is always good, because it forces you to be better. The competition is there and this is war.
What does Camaloon's future look like?
The current situation with COVID seems like a huge opportunity for me. In other words, in the next three years, we are facing a tsunami. In a tsunami, you can either let the tsunami kill you, or let it take you very far by surfing the big wave, which can take you further than the small waves would have taken you and in a shorter time. To me, the first is not even an option. This is a wave to be surfed. You're CEO at a company like Camaloon to ride these waves. These are the waves that build companies. In the short term, it is hard. It is a time of war. But it's one of the most exciting moments, the ones you enjoy the most as CEO are moments of maximum intensity. These are the moments that show if you really are the CEO of a startup like Camaloon. My goal is to ride this wave with Camaloon. This is a wave that can cross the Atlantic Ocean.
Why did you join the Itnig Fund?
Basically, to invest in entrepreneurs. It is a fun experience. Each one has to make his way and has to take his own blows. I go back to the beginning of the story when I went to the United States because it is a country of entrepreneurship, of meritocracy, of effort. And I think that society is built by people and built by companies. In other words, the technological development that we have now has not been created by anyone by decree-law nor has been created by any government. This exceptional moment in history in which we are of innovation, of development, is being more brutal than the industrial revolution and is happening way faster. This has been possible because of companies, people have done it with their talent, with their creativity, with investors who have supported it, and so on. I believe in that type of economy, in that type of business, in that type of free world.
What kind of projects and entrepreneurs do you look for?
I have to see the business, the market, the project has to make sense. As for the entrepreneur, I look for a person who has energy, resilience, great capacity for mental toughness, and self-fanaticism of believing things. I look for entrepreneurs that believe that they're building the next big thing.
---
In the first part of the interview, Juan tells us about his beginnings, how he became Marketing Director of Telepizza, and how after being part of the IPO, he migrated to new businesses.
If you want to keep up with more interviews about startups, business, and technology, visit our channel or subscribe to the newsletter.
This post is also available in: Español (Spanish)