Fund
Vasquiat: Changing the Fashion Game with Rafa Blanc
Bernat Farrero interviews Rafa Blanc, CEO, and co-founder of Vasquiat, a fashion marketplace where next season's collections are available for trendsetters to discover and reserve at exclusive prices.
Vasquiat is one of the startups in which Itnig has invested through the Itnig Fund.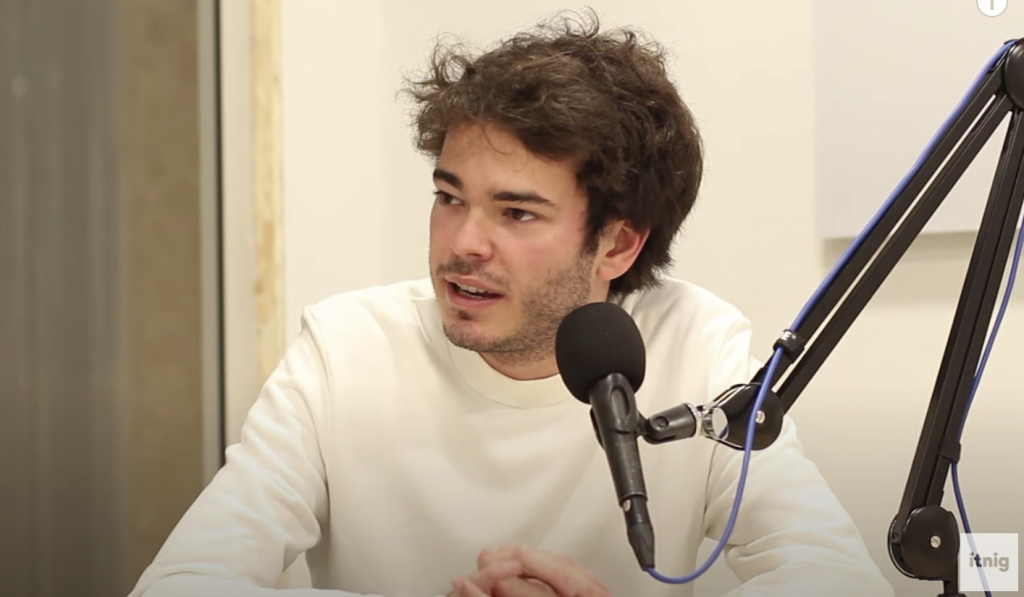 What is Vasquiat and how does it work?
It is a marketplace that allows you to reserve upcoming luxury fashion collections, paying up to 40 percent less to anticipate. In other words, we basically changed the sales from the end of the season to before the season to solve a problem that we understand the industry has with the sales. And in this way we reward people who anticipate and buy first. Well, people and brands. It is crowdfunding for brands, basically, and also a way for them to have feedback on their collections before they have been produced and distributed and layout and everything.
In the world of fashion, brands have to make an investment in design, in stocks, and then sell it at a price first and then it goes down until the stock runs out. It is a very long, very expensive, and very risky process to launch a fashion collection. Between all the creative process to conceptualize the collection, put it down into pieces, take samples that are very expensive, distribute them in all their showrooms … Then they start producing and never know which third or half of the collection is the one that will work best because not the entire collection works well all the time. Brands are suffering a lot. Every day a new brand comes out. There is a lot of noise and that is why the whole industry is starting to make more and more sales. Big brands that had never offered sales are offering them. Before the sales started after Christmas, now you can find sales in other seasons. It is becoming more and more exaggerated.
We came up with this proposal to reward those who buy in pre-order, which allows brands to produce the collection knowing that they have already sold it. We launched Vasquiat in 2018 and since then, more brands understand what we are doing and want to be with us.
The consumer is always expecting more sales. If a brand offers 30% off, you know that in three weeks the discount will be 40%. If you want immediacy, you have to pay for it. Now we are starting to offer collections that we have presented exclusively at a discount. Then, when the season starts, we can offer it at full price. But you have to pay for that immediacy. And that makes all the sense in the world. With a plane ticket, if you buy it six months in advance, it has a price, a month before you have to pay more.
What is Vasquiat's segment and how does the market work in this segment?
Affordable luxury. We do sell products above 1000-2000 euros, but it is a very little part of our sales. Our average ticket is at 300 euros. Luxury is very great, there are many levels within luxury. For me it would start with a garment, a sweater for example, for 300 euros, we can put it on luxury, especially in Spain. And it can go up to 10,000,000 or 20,000. So they are very different consumer behaviors.
We are focused on more accessible luxury, on-trend, and that a larger part of the population can buy. There are brands that live off a handful of families in each country, we are not talking about that luxury.
There are mid-season sales, Black Friday, and early sales. Medium sales, big sales. Then you have outlets or second-hand stores. The price waterfall is infinite. And for example, we are not going to do a Black Friday. We are very clear that it is not our model.
We don't have our own stock, we use the brand's. We offer the preseason products. Obviously, there is no stock because they haven't been produced yet. So the brand is the one who has to send the products to the customer. Our value proposition is that you can buy a garment before it has been produced.
How does this work? What does the client have to do?
As soon as the brand has a collection designed for a photo-shoot or a lookbook to present to retailers. So what we work with is that lookbook and we show it through the platform to the final consumer. And the final consumer can reserve paying up to 40 percent less, because it depends on how far in advance they buy, with the maximum release of 6 months and a minimum of a week before.
What does this process mean for the brand?
Well, brands want to take advantage and be on the largest number of sites. We want to give them a very good service and that is, above all, exposure to a very cool public, really. It is a small community but of very high quality. They highly value this consumer feedback on their collections before releasing them.
What is the value proposition of Vasquiat compared to what is on the market? How do you solve the issue of immediacy?
We launch in-season because we know that immediacy is important. We change the sales from the end to the beginning, but we do close the loop by offering the full price. You have to satisfy the client's needs and this client will enjoy making their pre-orders for the next season, or something within 10 days, we offer both options.
On the one hand, you have immediacy, which is obviously very important in fashion. The truth is, they will always have the urge to click and say "I want it now." But then it also has the other side, which is to access exclusive content.
How does the curation of products and brands work? Who picks them?
I have a partner named Blanca, who is a stylist influencer well known in Europe, especially in the luxury fashion sector. It's Blanca Miró, she's truly passionate about fashion. She has a style with a lot of personality, very unique that brands like a lot. She is the one who is in charge of filtering the brands for the platform.
Does your target-consumer focus on big brands or small brands?
We started with emerging designers because, in the end, we both sell the future. It makes perfect sense to work with contemporary designers, Blanca likes to work with them and our goal is to combine these designers who we believe are the future with more established brands.
And in the end, our assortment of brands has always been international, local brands were the first to bet on us, but also from New York, Stockholm, Copenhagen, Paris, London, Italy, Istanbul.
What are Vasquiat's main markets?
The main one is still Spain, but it is 30 percent of sales. Then there is the United States with a 20, which is basically New York right now. And then France, Italy, Germany. Basically Europe and the United States.
Who's job is it to convince brands?
Blanca makes the entrance. Blanca picks the brands and then I do the negotiation and I close "the deal".
Blanca is key to Vasquiat. She has her own brand and also operates on our platform with the brand. Blanca pitched a little after we pitched Vasquiat. She already had this project of launching a very extravagant luxury blazer brand. We launched it and run out of stock in no time. And now we always have to ask Blanca to produce more. She's also our fashion insider, she's in contact with a lot of designers and people within the industry, so that gives us a lot of insight.
Why did you start this business?
I studied Business and Law at the same time. I always knew I wanted to start something. I was not expecting something so soon. But this got into my head. I was at Durex, in Marketing and it got into my head that I couldn't understand the subject of sales. And I began to look at the timings for a long time and each time I was looking at when the sales began, what they were like.
Looking at the evolution, I could not understand that this worked. Then I started seeing people from the industry and asking. And when I thought more about the model, I decided to jump in.
I remember it as a very hard time because I had no experience, I wanted to know everything, I didn't want to be wrong. And sometimes you can't know everything. I went into an analysis loop and started to study a lot of things in the market. And when you need money, you need equipment, you need users, you need brands … You have to decide what to do first. In my case it was the brands, so I went to get them.
When I had some brands confirmed, I went to see Blanca, a person who has 300 thousand followers on Instagram. We had people in common and we had known each other at times, but Blanca is not easy to reach. It was all through her manager and it was also a process. I made progress with Blanca, with the brands, and I started to think about who I needed on the team. And money. We started to look for initial funds. The first funds were little provided by friends with small tickets.
How much did you raise in the first and second funding rounds?
We raised ninety thousand euros with the first one, which helped us finance the first version of the platform, and we were able to launch and survive the first year and grow. Then we closed a round of four hundred and twenty thousand euros.
How was the second round? Who did you ask for money?
Rookie mistake, I started contacting huge funds from outside of Spain. And there I lost a lot of time and effort because each one asks you for the information in a certain way, and many said no because it really was early for us.
Nina, who is Vasquiat's advisor and a very good friend, introduced me to Mathieu Carenzo, and he introduced me to you (Itnig) at the end.
What is the future of Vasquiat?
We really want to do a lot of things. Vasquiat has a lot of potential as a market place. But it also has a lot of potential as a medium of communication. There are many things that can be done and we see that this industry is large and has a lot of competition.
---
If you are an entrepreneur and you are looking for financing, apply through our website, and receive feedback on your project.
For more interviews about startups, business, and technology, visit our channel or subscribe to the newsletter.
This post is also available in: Español (Spanish)