Newsletter
Challenges with Xavi Sans (Orain Technologies) & Startups News
At Itnig, we know it's hard to keep up with all the startups news and updates flying around. We are quite delighted about this month's podcasts. If you're interested and passionate about tech, Xavi Sans, CEO of Orain Technologies, is having a talk about his company and their challenges on our weekly podcast.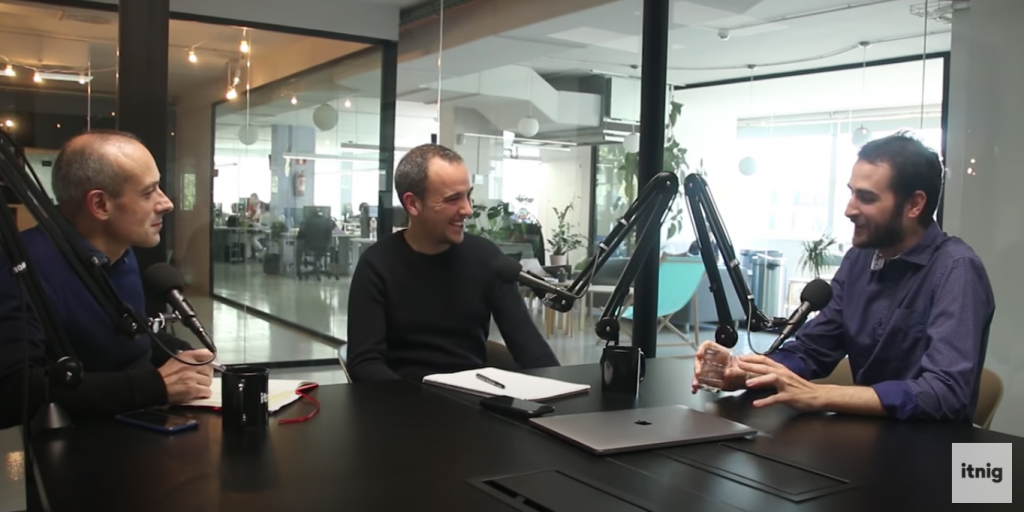 Orain converts vending and self-service machines into intelligent devices ("smart") offering a communication interface to consumers via chatbots; using their own phones as a modem. They are connecting machines to the Internet while allowing them to keep their database synchronized.
The company faces a huge but highly atomized market with many possible verticals to conquer. Their business model is a SaaS, paying the companies that sell the machine's products.
Orain has a double challenge in its 'Go To Market operation' through the engagement of the companies and users. They now have 20 employees and are pursuing both objectives and growth. He mentioned that their growth rate corresponds to 300% a month and that in the last year they closed 400k€ turnover between Spain and Italy.
The business-funded itself in a first phase, and at the end of 2017 closed a round of 1M€ with business angels and a vending machine plastic cups manufacturer. Xavi is currently preparing another much larger round to continue growing.
What about other successful businesses and their stories? Let's move on to three other podcasts where you'll learn about VR technologies, WeFitter and B2B. Finally, you will discover the great project and enterprise Bound4Blue, a tech product which is having a great environmental impact.
Startup Inside Stories Podcast
#82: Jordi Valls, from Mentor-VR
Jordi Valls claims that VR technologies are in its sweetest moment. Among other aspects, its market acceleration is caused by the hardware improvements and reductions in costs, with devices like the Oculus VR Gothat can be purchased for as little as 219€. Jordi anticipates that Oculus was a very visionary acquisition by Facebook with the potential to become even bigger than Facebook itself.
Today gaming is the main application we see on VR and Sony is the current vendor leader. However, there have been some new companies using it for therapies, training, and many other uses. In the b2b space Mentor VR is one of these new models, inspired by the American STRIVR that used VR to train over Walmart's 1M employees. They plan to start as an agency that records and prepares the 3D videos and productize it along the way.
Jordi finishes by telling us his previous adventures as an entrepreneur, its stay in Palo Alto to found 1sleeve (customized iPad cases), then Startup Embassy (apartments for entrepreneurs), to come back to Spain to work for a packaging company and then move to Menorca to lead a "startup deacceleration program" called Menorca Millennials.
Wefitter was founded in 2014. applied to Itnig's "acceleration program" (when it still existed). They did not enter as it was too early for the team. At this time, he also lost his CTO. Carlos shares with the frustration and importance of having a good CTO to boost a startup on the Internet, which Wefitter did not get.
After long existential debates between B2b and B2c, a recurring theme in the stories of Itnig podcasts, WeFitter opted for the B2b. Its model is the sale of the sports information of its users to companies and insurers. Carlos debates with Jordi and Bernat how to evangelize in a market that is not yet ready (insurers). Bernat cites the models to Google performance, but also Marfeel and Red Points as a formula to explain new ways to solve problems.

One of the key elements of Wefitter's story is the number of accelerators he's been through. It passed through Seedrocket (Barcelona), H-Farm + Technogym (Italy), 500 startups (San Francisco), Articstartup (Finland) and Katapult Accelerator (Norway). Carlos jokes that being accelerated becomes a lifestyle and that he takes more learning into the next project than those that can be achieved in an MBA.
In this week's podcast, Pau Fernandez (CFO of Quipu and Factorial), and Dan Kragt (CEO of Quipu) discuss with José Miguel Bermúdez, CEO of Bound4Blue.
José explains about being passionate about sailing and aeronautics all his life. He co-founded in April 2015, his company Bound4Blue. Boats use a lot of energy and resources that hurt the environment and the income statements of naval companies; Bound4Blue provides boats tailored complementary rigid wingsail technology. Their product uses the power of the wind to provide maritime transport with a solution to decrease emission levels and fuel consumption.
He explains that the combustibles of the boats are extremely dangerous for the environment, as well as dirty and of very low quality. Bound4Blue's products could be applicable to 80% of the world's fleet, representing more than 50.000 boats. Their technology is adaptable to existing boats and can be implemented to the design of new ones. The concept is not new, as the wind has been used since the beginning of ages; all Bound4Blue as done is to industrialize and transform it into promising technology.

José explains that fuel can represent over 50% of the costs of a trip and a solution like Bound4Blue's can represent a big boost in the margins. José also explains how they design, install (with the actual production outsourced) and maintain the installations. Therefore they can have a margin on the setup of the sails and on the recurring revenue they can charge to their clients
José underlines that the maritime sector is very conservative and that the real challenge is to prove the positive impact their product would have on the industry and the environment. He mentions that some other well-known companies are working on the development of technologies in this sector; such as Airbus, working on the development of technological kites to pull boats.
To finish the discussion, José concludes that maritime transport is viable and that it's all about modernizing it and giving it time to adapt to technology. In the future, he sees Bound4Blue the leader of this technology type.
April Startup News & Updates
New Funding for Startups
Local
Motors
Fintech
Health
Other
Random Tech News
---
Those are the April 2019 startups news!
At Itnig, we write a weekly newsletter where we keep our community updated on everything related to startups, tech news, fundings, and we share our weekly podcast!
Subscribe and keep up with the startup universe, or feel free to come back for more startup news of the month here!