Newsletter
Proptech with Andrés Pla (Prontopiso) and Startups News
At Itnig, we know it's hard to keep up with all the news and updates flying around. We have a special surprise for you this month. On our weekly podcast, we had the opportunity to welcome Andrés Pla, Founder and CEO of Prontopiso, and talk proptech and more. You will discover an animated talk with Bernat Farrero (Itnig CEO) and Juan Rodríguez (Camaloon CEO). Moreover, you will discover startups news and other 2019 updates.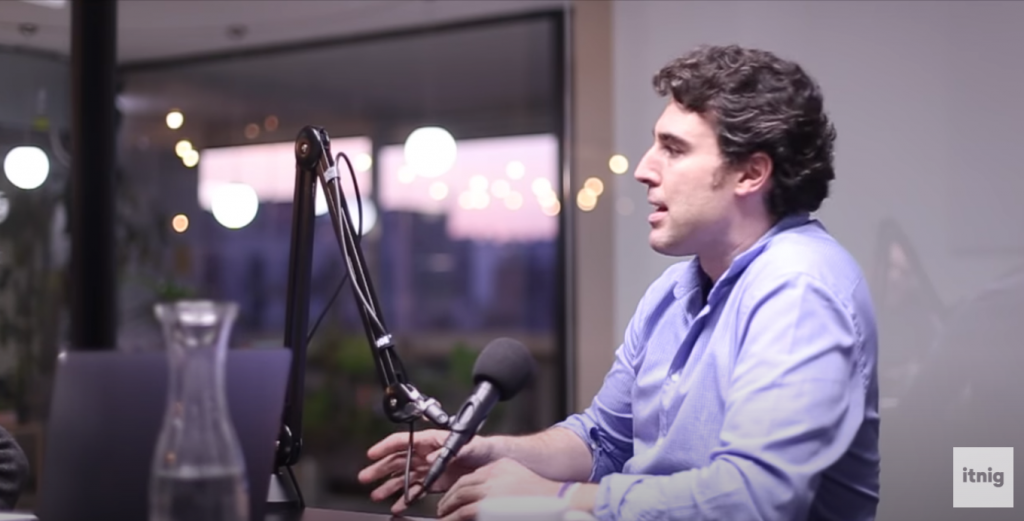 As we mentioned, Itnig's podcast welcomes Bernat Farrero and Juan Rodríguez for a talk with Andrés Pla, founder and CEO at Prontopiso. Prontopiso is a proptech business founded together with Antai (incubator by Miguel Vicente and Gerard Olivé) and has raised almost €9M to this point. Their goal is to intermediate in the merchanting of dwellings offering the owner a guarantee of sale and liquidity in less than 90 days.
Similar to the American Opendoor (with more than $1B in funding), they use an appraising algorithm to get a buying value and assume the purchase with their own balance and risk. They even offer the possibility to get €50K in advance.
If you're a podcast lover, we have two more for you this month. In the second one, we welcome Nicolas Salame, former CEO of Akiles. In the third podcast, Bernat Farrero and Oriol Blanc are having a talk with David Jordan, from elrowFamily.
Startup Inside Stories Podcast
#74: Nicolas Salame, from Akiles
This week on Itnig's podcast Bernat Farrero, CEO of Itnig, and Juan Rodriguez, CEO of Camaloon, talked with Nicolas Salame the 25 years old CEO of Akiles. Akiles, "A key less", is the IoT SaaS startup that smartly manages physical access to offices and houses.

At his young age, Nicolas has gathered invaluable experience after studying two degrees and getting involved in the crypto ATMs company BTCpoint that would later become Verse. He was the CFO of the company until he left to start Akiles. Verse is a payments company in Barcelona that attracted talent, user traction and (too much) VC money quite early, and expelling the 3 founders out of the management.

Nicolas explains how they are targetting a huge universal market (b2b – mainly offices and coworkings) that is yet to start making a change. They offer a solution that provides an enterprise-ready backend for managing the service and an amazing app-based interface for users to open the doors. He defends that it is the combination of service and product that makes their customers instantly queue at their door after listening to their pitch.

With a 300k€ round they just closed and the new version of the device to be distributed in March they expect to eat the Spanish market even faster than planned.
#76 : David Jordan, from elrowFamily
This week on Itnig's podcast Bernat Farrero (Itnig) and Oriol Blanc (Quipu) chat with David Jordan, executive and entrepreneur in different digital advertising companies.
After a commercial career in multinationals, David explains to us how he began working for Softonic (founded in 1997) at the exact moment when Google started to punished its intrusive advertising politic (due to sponsored downloads). This led Softonic's principal source of revenues to decrease by 50% (reaching €20M), leading the company to reduce its workforce by ⅔. All of this, according to David (15:22), is what allowed the company to reinvent itself and force it to look for new ways of monetizing its huge organic traffic.
However, David thinks that advertising, even though more sophisticated, keep being over 60% of Softonic business. As a result of this, Bernat discusses (25:53) the difficulty of being able to pivot efficiently the strategy of a company.

Oriol Blanc explains (29:30) what consists Billy Mobile, the Adtech company in which he was working as CTO and was collaborating with David. He explains the different advertising formats and the business models that they developed. Oriol and David tell us (35:18) why agility in the experimentation and technological implementation are way more important than the development of a single long-term strategy.
That is precisely what drove David to launch Jarvis (37:30), a mediation model of video advertising inventory which started with manual operations and without the use of technology, that rapidly grew (41:37) until being sold to Agile Content after a one-year lifetime.
February Startup News & Updates
January ends with €61.5M invested in Spanish startups.
The taxis strikes in Madrid benefits Uber and Cabify.
Mr Jeff aims to triple its numbers of franchises in 2019.
Great interview of Andrés Saborido, Wayra CEO.
Deliveroo expands its services to Salamanca, Vigo, Marbella and Valladolid.
The 10 winners of the Gamechangers & Cities contest.
The 2018 edition of the MWC almost got cancelled because of last year political crisis.
SeedRocket launches the eleventh edition of the Entrepreneurs Campus.
Repsol Foundation opens the candidature for a new edition of its acceleration program.
Madrid Startup Europe Accelerator: the new program to subsidize ex-Madrid entrepreneur's projects.
On mobility, Cabify and Uber:
Cinco Dias portrayed Juan de Antonio, Cabify CEO, and talked about Cabify plans to go public.
Uber and Cabify forced to report all of their trajects in a public registry from the first of March.
The electric scooter of Lime appears in the 21 districts of Madrid.
Cinca dias interviewed Ignacio Román, general director of the carsharing company Emov.
EFE for its part interviewed Pep Gómez co-founder of Reby an e-scooter startup from Barcelona.
Barcelona airport call of the strike programmed during the MWC.
Seedtable made a list of the 100 Barcelona startups to watch out in 2019. Spoiler alert our startup Factorial is one of it!
Spotahome hires Cleo Sham, Uber ex-director of operations in the EMEA region, as its new country manager.
Cinco dias interviewed María Benjumea the founder of Spain Startup.
Spain comes closer to gender equality between entrepreneurs.
Influencity, the tool to manage influencers, opens a funding round to gathered €8M.
Empresa investigated the state of legal Marijuana in Spain.
Cinco dias gave us the keys to negotiate in Asia.
Eventbrite about to open its first European development centre in Spain.
The American AMC project to relocate from London to Madrid due to the Brexit.
The Japanese pharmaceutical Takeda choose Madrid to establish the production of one of its new therapy.
The German BayWa r.e. expands in Spain and Portugal and pick Madrid to open its new offices.
The Zona Franca of Barcelona will open a center for digital innovation in 2020.
On mobility, Cabify and Uber:
Uber Black is now available in Madrid
Can Barcelona permit herself not having the MWC?
Lanzadera and Airbus join their forces to create aerospatial startups
Coche.com will launch a "Wallapop" of used cars
A Madrid judge sentences that Blablacar is not unfair competition to Confebus
El referente interviewed Oriol Vinzia, CEO of Gymforless
The trends of 2019 for investing in startups
Cemex opens the convocation for construction startup competition 2019
Telefónica is looking for technological startups to impulse its activity
Via Galicia opens the inscription of its 6th edition
Lilly and UnLtd Spain launch the 4th edition of Emprende inHealth
New Funding for Startups
Local fund
Fintech
Medtech
Transportation
Mobility
Energy
Other
Random Tech News
---
Those are the February 2019 startup news!
At Itnig, we write a weekly newsletter where we keep our community updated on everything related to startups, tech news, fundings, and we share our weekly podcast!
Subscribe and keep up with the startup universe, or feel free to come back for more startup news of the month here!